Housing Enclosed Type Dielectric Fluids Purification Equipment (ZYD-W-100)
Product Description
Model NO.:ZYD-W-100 Certification:UL, SGS, RoHS, CE Application:Biodiesel Oil, Turbine Oil, Lubricant Oil, Transformer Oil, Engine Oil Voltage:380V Folw Rate:50 L/min Model:Ty-50 Trademark:TOP Specification:CE, SGS Origin:Chongqing, China HS Code:98421 1. Gas content is less than 0.1% 
2. Impurity size is less than 1μm without free carbon 
3. Water content is less than 3 part per million
4. Oil dielectric strength (breakdown voltage) is more than 75KV 
5. Acidity value is less than 0.01 mg KOH/g 
6. Dielectric loss factors at 90°C is less than 0.001   Application: ZYD-W
Transformer Oil Purifier
adapts vacuum pump, roots pump and two horizontal vacuum separation chambers, this design can increase separating size and separating time more three times than single stage transformer oil purfifier. ZYD transformer oil purifier is sepecial for purifying expensive oil such as fresh oil, imported oil, instrument transformer oil, extra-high tension transformer oil (cover110v, major transformer).This transformer oil purifier can work live online. 
Features: 1. Vacuum separating chambers, efficient oil film sprayer, increasing separating size and separating time to ensure the dry-level and dielectric strength improving greatly. 2. Double-stage vacuum system, strong power of vacuum evacuating, ultimate vacuum value ≤ 5Pa 3. Multi-stage precision filtration system, mesh filtration combined with molecular adsorption technologies 4. Duplex-Stereo film evaporation technology, combined with unique and advanced dewatering, degassing components, can rapidly and effectively separate water, gas from oil. 5. Efficient electric heating system, heating uniformity, less power consumption, safe, and reliable. 6. Double-infrared liquid level sensor, pressure protective system to ensure machine operation easy and safely. 7. Functions of live line work onsite, vacuum drying and vacuum oiling. 8. Adopt interlocked protective system, which connect oil pump, heater and liquid level sensor, avoiding blank heating, blank pumping, oil leak and electricity leak. If there is any fault, machine will be power off automatically.
The plants are designed for the following applications:
1. It adopts the coalescence and separation technique and 3D-Evaporation technical and thin film evaporation technique, and it has strong ability to break emulsion and remove water from the oil.
2. Optimized electric heating system with automatic constant temperature controller ensures the oil temperature to be even and stable.
3. Precise multi-stage filtration system helps remove different kinds of impurities with high quality filter element of better ability of containing pollutants and long service life
4. Advanced infrared oil level control system and pressure protection device make operation simple and safe.
5. It can purify any kinds of turbine oil used in steam turbine and water turbine online and onsite.
6. Air cooling system helps cool down air and gases from the flash distillation column so as to extend the service life of vacuum pump, avoiding the inconvenience of water cooling. 
7. The machine can also be installed with digital flow meter and timer to calculate and record the volume of output oil and working hours (it's optional).
8. Aluminum electric control cabinet has the merits of heat conducting and anti-explosion
9. Adopts interlocked protective system, which connected oil pump, heater, and oil level sensor, avoiding blank pumping, oil leak and electricity leak. If there is any fault, machine will be power off automatically.
10. High quality and low noise oil pump
11. Hi-automatization operation, convenience, reliable, and safety 
Special features 
1. The plant is delivered ready for operation. 
2. Continuously clean the oil
3. On-line water content measuring device (optional)
4.  All oil treatment plants, type TY are equipped with an automatic Anti-Foam Control System. 
5. The plant is equipped with built-in control and safety devices, which provides for a maximum operating security. 
6.  Minimised power consumption through optimised degassing (excellent efficiency factor). 
7. Standardized filter housing for 1 micron , 5 micron, 20 micron and 80 micron filter cartridges. 
8. Automatic supervision of the degree of contamination of the fine filter cartridges
9. All parts of the machine are stainless steel and food grade material 
10.  All plants are PLC controlled (optional)
Table 1
Parameters

Unit

ZYD-W-10

ZYD-W -20

ZYD-W

-30

ZYD-W

-50

ZYD-W

-100

ZYD-W

-150

ZYD-W

-200

ZYD-W

-300

Flow rate

L/h

600

1200

1800

3000

60

00

9000

12000

18000

Vacuum degree

M

pa

-0.0

6 

~- 0.

095

Working pressure

Mpa

≤0.

4

Temperature degree 

ºC

0~100

Power supply




3Phase, 380V, 50Hz(or as needed)

Working noise

dB(A)

≤

7

5

≤

75

≤

75

≤7

8

≤7

8

≤78

≤80

≤8

2

Electric heating power

KW

36

40

45

72

80

90

120

135

Total 

electric

 power

KW

38

42

47

75

87

101

135

147

Inlet (

outlet) caliber

mm

25

25

25

32

42

50

50

60

Size

mm

1500x1000x

 

1600

1500x1050x

 

1600

1500x1050x1650

1600x1150x1700

1750x1150x1750

1900x1600x1950

1950x1600x1950

2100x1600x2000

Weight

Kg

350

38

0

400

450

550

650

700

750
 Table2 
Item

Guarantee indexes

Moisture content

≤3 PPM

Demulsification value

New oil≤

15

min

,running oil≤

30

min

Impurity size

≤1 micron

Gas content

≤0.1%

Clean degree

≤4 Grade (NAS1638)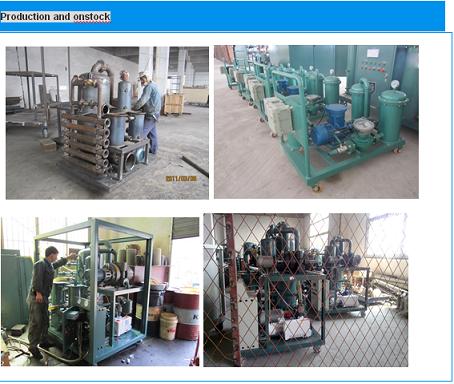 Our oil filtration machine: 
Series ZY Single-Stage Vacuum Transformer Oil Purifier 
Series ZYD Double High Vacuum Transformer Oil Purifier 
Series ZYB Multiply-Function insulating oil treatment machine 
Series TY Turbine Oil Purification Apparatus
Series TYA Lubricating oil/ hydraulic oil purification unit 
Series TYB Portable light Fuel oil purification machine 
Series TYD Vacuum dehydrator 
Series TYF Phosphate ester fire-resistance oil purifier 
Series PL Plate pressure oil purifier 
Series TYD Vacuum dehydrator 
Series EFD Explosion protection filtration machine 
Series BAM Press filtration system 
Series ZKCC Vacuum pumping device 
Series COP Cooking oil purification machine 
Series CYS Centrifugal oil purification machine 
Series JL Portable oil filtering and oiling machine 
Series EOR series waste engine oil recycling system
Test equipment
1.Transformer oil Breakdown voltage Tester ( BDV test kit) series IIJ-II
2. Acidity tester model ACD-3000I
3. Karl Fischer Water content Tester Model TP-6A / model TP-2100
4. Fully automatic Interfacial Tension Analyzer model IT-800
5.Gas-Chromatography transformer oil gas analyzer model DGA2013-1
6. Kinematic Viscosity tester model VST-8 /model VST-2000
7. Flash point tester (open cup) model TPO-3000
8. Flash point tester (close cup) model TPC-3000
9.TAN-DELTA TESTER,10kV Capacitance and Dissipation Factor Test Set model CDEF
10. CT/PT tester model TPVA-404
11.Transformer turn ratio tester model HYG-II
12. Relaying Protection Tester model TPJB-III
Oil Regeneration machines, Oil Purification system, Oil Dehydration, Oil Disposal, Oil Filtering, Oil Filtration, Oil Preprocessing, Oil Purification, Oil Purifier, Oil Reclaim, Oil Reclamation, Oil Reconstituted, Oil Recycling, Oil Regeneration, Oil Restoration, Oil Resuming, Oil Separation, Oil Treatment, Oil Filter, Oil Recovery, Oil Recuperation Plant, Equipment & Machinery, Transformer oil purification system, oil drying plant, oil purification plant, drying of oil, oil drying, oil drying device, purification of oil on transformer, transformer oil drying, mobile oil plant, mobile oil purification device, device for drying of oil, vacuum oil purification plant, vacuum degassing plant, vacuum degasifier, oil degassing, degassing of transformer oil, removing of water from transformer oil.
Contact us if you need more details on Oil Recycle. We are ready to answer your questions on packaging, logistics, certification or any other aspects about Oil Recovery、Oil Reclaiming. If these products fail to match your need, please contact us and we would like to provide relevant information.
Product Categories : Turbine Oil Purifier System